Hey guys! I thought I'd take a post to explain some of the awesome links that have been hanging out in my sidebar for the past month! Feel free to click around in this link or in the future on my sidebar itself and see some of the girls and sites that I'm promoting!
This little blog was my baby over the summer and really catapulted me into fully launching E&D! It takes you all through my travels in Europe with way too many photos of food! If you're thinking of studying abroad is a great resource or if you're feeling a little wanderlust go check on the Paris page!
The Classy South is an adorable little fashion blog run by Corbin from North Carolina! I love her daily style posts and her outfits are always a statement. Her blog design is truly a breath of fresh air and you can see her bubbly personality pop right off the page!
Prep Northwest is another great fashion and lifestyle blog run by Constance out of Washington! She definitely has a regional take on the preppy style and I love seeing the neat little spins she puts on her looks. Her lifestyle posts are always very honest and relatable! Fun Fact: Constance and I work together on the Undeniable team!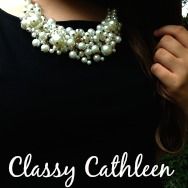 Classy Cathleen is authored by Cathleen who is the queen of Polyvore style inspiration boards! She always has great style trends on point and is very responsive to her readers! Cathleen also heads the Blogger with Class community so if you're looking for a way to connect with more fashion and lifestyle bloggers you should contact her!
The Smart Girls Group is a unique sisterhood that seeks to unite, inspire and empower a generation of influential women through products, resources and opportunities for passionate game-changing women! The group works to develop ambitious young women and redefine what it means to be a smart girl!
I'm super excited to let you all know about the Undeniable Report. It recently launched and I'm pumped to be a part of the team with a group of bloggers from all across the world! The Undeniable Report is a lifestyle website for girls that covers everything from style, beauty, wellness, business, travel and more! Go check it out and keep an eye out for my articles!
If you're a fairly avid blogger the HerCampus Blogger Network is a great resource to be a part of. It connects you with bloggers all over the world that cover everything from fashion, to beauty to college to everything about life in between. It can connect you to great companies for promotions, other bloggers for link ups and other finds all over the internet!
Hope you all enjoyed knowing a little more about these links in my sidebar! I'm always excited to do a buttons swap for any bloggers that are interested! Feel free to email me and we'll set it up!
Have you heard of any of these blogs or communities? Aren't they great?!
Emily